Recipes using Ludbrook House Fine Food Products.
Figs, Quince, Plums, Lemons, Limes, Kiwifruit, Oranges, Capsicum, Tamarillos, Grapes, Loquats, Feijoas, Peaches 100% from Northland , New Zealand.
Baked Ricotta with Pickled Limes

1 500g pottle of ricotta, drained in a muslin lined sieve
2 eggs, beaten
2 tablespoons cornflour
Salt and pepper
4 wedges Ludbrook House Pickled Limes, drained
Thinly sliced Ludbrook House Pickled Limes
Loaf tin, lined with baking paper


Strip and discard the flesh from the peel of the pickled limes.
Add beaten eggs and cornflour to drained ricotta and mix well.
Chop the peel of the four wedges finely and stir through the ricotta mixture.
Season to taste.
Pour into a baking paper lined loaf tin and smooth top.
Place sliced pickled limes across top for garnish.
Bake 180C approx 45 minutes.
Cool before turning out.
Serve warm or cold.

---
Goats Cheese Tart With Ludbrook House Preserved Lemon Or Ludbrook House Pickled Limes
Shortcrust Pastry to line a 27cm Quiche dish
Handful of dried beans or rice
3 free range eggs
100ml cream
500g creamy goats cheese, we used Puhoi Feta
2 tbsp finely chopped Ludbrook House Preserved Lemon or Pickled Limes
2 tbsp finely chopped green olives
Freshly ground pepper
Extra virgin olive oil


Pre heat oven 180C. Grease quiche tin of 27cm line with pastry, trimming round the top. Bake blind for 5 minutes. Remove beans and baking paper and return pastry to oven for further 7 minutes or until golden brown.

To make filling:
In a large bowl whisk together the eggs and cream. Add the crumbled goats cheese, Ludbrook House Preserved Lemon or Pickled limes and olives and mix well & season if necessary.
Pour into pastry shell and bake 10-15 minutes, until just set.
Serve in wedges topped with rocket and drizzled with olive oil.
---
Mini Saffron fish cakes made with Ludbrook House Preserved Lemon or Ludbrook House Pickled Limes
450g white fish fillets cut into chunks
2 teaspoons harissa
rind of ½ Ludbrook House Preserved Lemon or Ludbrook House Pickled Limes, finely chopped
small bunch fresh coriander
1 egg
1 teaspoon honey
pinch saffron threads, soaked in 1 teaspoon water.
Salt and ground black pepper
Sunflower oil for frying

Put fish in a food processor.
Add the harissa, preserved lemon, coriander, egg, honey, saffron with it's soaking water, and seasoning and whizz until smooth.
Divide the mixture into 16 portions. Wet your hands to prevent the mixture from sticking to them and roll each portion into a ball and flatten with the palm of your hand.
Heat the oil in a large fry pan and fry the fish cakes in batches until golden brown on each side.
Drain the fish cakes on kitchen paper and keep hot until all the cakes are cooked.
Serve immediately with chilled cucumber salad.


Sweet Cucumber & Cinnamon Salad

Assemble before fish cakes to allow time to chill.

2 cucumbers, peeled and grated.
Juice of 1 orange
Juice ½ lemon or lime
2 tablespoon orange flower water
3-4 teaspoons sugar
½ teaspoon ground cinnamon

Place cucumber in a strainer over a bowl and sprinkle with salt. Leave to drain for 10 minutes. Using your hands, squeeze out the excess fluid and place the cucumber in a bowl.
In a small jug combine the orange flower water, orange and lemon juice and sugar and pour over the cucumber.
Toss well, sprinkle with cinnamon and chill for at least 1 hour.
---
Creamy Tua Tua cakes
2 cups minced tuatua
1 cup fresh breadcrumbs
2 tablespoons cornflower
2 eggs
2 wedges of Ludbrook House Pickled Limes, drained
½ tsp chilli powder
½ cup cream
1 tblsp fresh chopped herbs
Salt & pepper


Strip and discard the flesh from the Pickled Lime wedges and chop the peel finely.
Combine the chopped peel with all other ingredients and let stand for 5 minutes.
Drop in spoon-fills into hot melted butter or cooking oil of your choice.
Turn once and cook until browned on both sides.
Garnish with slices of fresh lime or lemon.

NB. This cake/fritter is quite soft in texture.

---
Muscle fritters : Oysters fritters
Use the above recipe substituting Muscles or Oysters for Tuatua
---
Chicken Tagine with green olives and Ludbrook House Preserved Lemon.

Serves 4

1.3kg chicken
3 garlic cloves, crushed
small bunch of fresh coriander, finely chopped
juice ½ lemon
1 tsp coarse salt
3-4 tbsp olive oil
1 large onion, grated
pinch saffron threads
1tsp ground ginger
1 tsp black pepper
1 cinnamon stick
1½ cups cracked green peppers
2 Ludbrook House Preserved Lemons, cut into strips


Place the chicken in a deep dish. Rub the garlic, coriander, lemon juice and salt into the body cavity of the chicken. Cover and stand for about 30 minutes.
Transfer the chicken to a tagine or a large flameproof casserole dish and pour the marinating juices over.
Pour in enough water to come ½ way up the chicken, add the cinnamon stick and bring the water to the boil.
Reduce the heat, cover with a lid and simmer 1 hour, turning the chicken occasionally.
Preheat the oven to 150C.
Using 2 slotted spoons, carefully lift the chicken out of the tagine or casserole and set aside on a plate, covered with foil.
Turn up the heat and boil the cooking liquid for 5 minutes to reduce it.
Replace the chicken in the liquid and baste it thoroughly.
Add the olives and preserved lemon and place the tagine or casserole in the oven for about 15 minutes.
Serve the chicken immediately with your chosen accompaniments.
---
Spiced Calamari on Lime Carrot Salad
2 calamari hoods, cleaned
2 tsp sea salt
1 tsp black peppercorns
pinch chilli powder
½ tsp chinese 5-spice powder
2 tblsp peanut oil

Lime Carrot Salad
2 fresh small red chilli, seeded and finely chopped
6 wedges of Ludbrook House Pickled Limes drained. Strip and discard the flesh from the peel. Thinly slice the peel
2 tblsp castor sugar
1 tbsp sake
1 tbsp white vinegar or Ludbrook House Kaffir Lime Vinegar or Ludbrook House Citrus Vinegar
1 tbsp fish sauce
2 carrots, julienned
100g snow peas, julienned
4 green onions sliced on the diagonal
2 tblsp coriander leaves
2 tblsp thai basil leaves

For lime-carrot salad
Combine chilli, sliced Pickled Lime peel, sugar, sake, vinegar and fish sauce in a bowl and mix well. Combine carrot, snow peas, green onion and herbs, pour dressing over and combine well.
Run a knife down the sides of the calamari hoods and open flat, then using a sharp knife, score surfaces and cut each into 4 pieces.
Combine salt, pepper, chilli powder and 5-spice powder in a mortar and pestle and pond to fine powder.
Sprinkle spice mixture over calamari.
Heat a wok over med. heat add peanut oil, and just when beginning to smoke add calamari and stir-fry over high heat until calamari curls and is cooked.
Divide salad among serving plates and top with calamari.

Optional; Squeeze lime juice over the salad & calamari before serving.

---
Thai Styled Red Beef Curry with Jasmine Rice and Ludbrook House Pickled Limes
2 tbsp peanut oil
500g sirloin steak, thinly sliced
1 onion sliced lengthwise
2 tbsp red curry paste, or to taste
3 kaffir lime leaves
1 2/3 cups coconut milk
2 tbsp lime juice
3 tsp palm sugar
1 red capsicum, thinly sliced
½ bunch beans cut into 8 cm lengths
½ cup chopped coriander
steamed jasmine rice to serve


Drain slices of Ludbrook House Pickled Limes. Strip and discard the flesh from the peel and reserve.
Heat 1 tbsp peanut oil in wok and cook beef in batches over high heat until browned. Remove from pan. Add remaining oil and onion to same wok and stir over high heat for 3 mins. Then add curry paste and cook a further 2 mins or until aromatic.
Stir in ½ cup water and cook for 1 min.
Add kaffir lime leaves, coconut milk, lime juice, sugar, capsicum and beans and simmer for 8 minutes.
Add beef and coriander and simmer a further 3-5 minutes until heated through.
Serve curry on a bed of jasmine rice.

Add finely sliced Ludbrook House Pickled Limes to the Steamed Rice or to the meat curry.

Suggestion !
Replace lime juice with Ludbrook House Kaffir Lime vinegar. Cut kaffir lime leaves to 2


---
Ways to use Ludbrook House Tamarillo and Chilli Jelly
Lamb Rumps with Ludbrook House Tamarillo and Chilli Jelly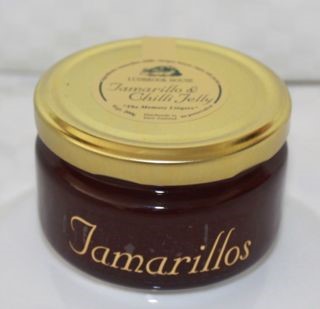 Rub lamb rumps with olive oil and season with salt and ground pepper.
Let stand for 20-30 minutes

Heat a smear of oil in an oven-proof fry pan and sear the lamb rumps on all sides.
Heat the oven to 200C then place the frypan and lamb in the centre of the oven for 8-10 minutes or until cooked to your preference.
Remove the rumps to a warm place to rest while you make the sauce.

Place the fry-pan over a medium heat and add 2 tablespoons of Ludbrook House Tamarillo & Chilli Jelly.
Stir until melted, scraping in the meat juices.
Add some chicken stock or water and bring to the boil.
Add 150mls of cream and simmer for 3-5 minutes when the sauce should be slightly thickened.

Taste before seasoning.

Serve the rumps sliced and placed over a potato and kumera or potato and parsnip mash. Drizzle the sauce over and/or around the meat or serve separately in a bowl.

Accompany with Tamarillo and Chilli Jelly as a side dish.

Roast Lamb, or Roast Pork with Ludbrook House Tamarillo and Chilli Jelly
Make a paste in the food processor or mortar and pestle of tamarillo and chilli jelly with grainy mustard, garlic cloves, chopped rosemary, salt and freshly ground pepper.

Smear the paste over a roast of lamb or pork. Place the meat in the fridge for 30-60 minutes then wrap in a double thickness of tinfoil, leaving a snall vent at the top before placing in the oven dish to cook. The tinfoil stops the juices from burning on the bottom of the oven dish.

When the meat is cooked to your preference pull the tinfoil back and let the meat brown up. Carefully remove the meat and set to rest. Pour off the juices from the tinfoil and serve with the meat along with a dollop of Ludbrook House Tamarillo and Chilli Jelly.

Ludbrook House Tamarillo and Chilli Jelly is great on toast for breakfast or make a toasted sandwich with bacon and Ludbrook House Tamarillo & Chilli Jelly.


Ludbrook House Tamarillo Chutney
Ludbrook House Tamarillo Chutney is the classic NZ condiment with cold lamb or mutton. Add Ludbrook House Tamarillo Chutney to your pannini filling before toasting or stir into your favourite winter casserole.
Add Ludbrook House Tamarillo Chutney to a cheese board – especially good with hard cheese.
---
Quince Recipes
Quince and butter cake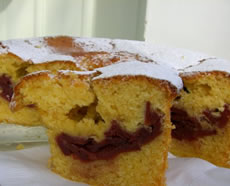 200g unsalted butter, softened
200g castor
4 eggs
1 teaspoon vanilla extract
½ teaspoon almond extract
300g self raising flour
70g ground almonds
1/3 cup sour cream
1-2 380ml jar Ludbrook House poached quince


Preheat the oven to 175C and lightly butter a 25cm ring tin.
Cream together the butter and sugar until light and fluffy.
Add eggs one at a time, beating well between each addition.
Beat in the vanilla and almond extract.
Sift together the flour and ground almonds and gently fold into the creamed mixture, then carefully mix in the sour cream.
Spoon just over half the mixture into the cake tin, spreading a little of it up the sides of the tin.
Place the sliced poached quince evenly over the layer of cake batter, then spoon over the remaining batter.
Using a spatula smooth the surface of the cake level.
Bake for 50 minutes or until a cake tester inserted into the centre of the cake withdraws clean.
Cool the cake tin for 10 minutes before turning it out onto a wire rack to cool completely.
Serves 10-12

Or

Chop Ludbrook House Poached Quince and stir into the above cake batter and bake in muffin tins to make delicious Quince Muffins
---
Orange Lime and Almond Cupcakes
Makes 36



125g butter
¾ cup castor sugar
4 eggs
½ cup Ludbrook House Orange & Lime Jelly
2 cups almond meal
1 cup self raising flour
Icing
2 tablespoons Ludbrook House Orange & Lime jelly, warmed
2 cups icing sugar, sifted
some peel from LH O& L jelly

Preheat oven to 160 C. Beat butter & sugar in the bowl of an electric mixer until light & creamy.
Gradually add eggs and beat well.
Gently stir through LH O&L jelly, almond meal & flour with a wooden spoon.
Spoon mixture into small, deep muffin non-stick pans & bake until golden & cooked.(approx.10-12--mins) Cool on a wire rack & ice when cool.
Apply icing if you wish

Alternative
Replace Ludbrook House Orange & Lime Jelly with Ludbrook House Poached Quince, drained & chopped. Use syrup from Poached Quince to make the icing
---
Fig & Ginger cake
250g plain flour
120g brown sugar
1 teaspoon ground ginger
125g butter
2 eggs
300g golden syrup
100mls milk
½ teaspoon baking soda
12 Ludbrook House Glace Figs or drained Ludbrook House Dessert Figs

Butter and line a 20cm cake tin.
Heat oven to 170C.
Cut Ludbrook House figs in half and place on baking paper in rows or circle pattern.
Beat butter and sugar until light and fluffy.
Add eggs one at a time beating well and adding 2 tablespoons of flour after each addition.
Stir in golden syrup and remaining flour mixture.
Dissolve the baking soda in the milk and fold into cake mixture.
Spoon into prepared tin and bake for one hour or until cake is cooked (test with skewer).
Stand in tin for 5-10 minutes before turning out onto a wire rack.
---
Ludbrook House Jam Buttons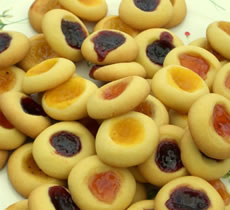 125g soft butter chopped
75g castor sugar
½ teaspoon vanilla extract
1 egg yolk
159g plain flour
35g self raising flour

Ludbrook House Jams and Jellies
Beat Butter sugar and vanilla extract until light and fluffy, add egg yolk and beat well until combined.
Stir in sifted flours and mix until a soft dough forms.
Roll teaspoonful of the mixture into balls and place on a baking tray.
Using your thumb make a deep indent in each and fill with the Ludbrook House Jam or Jelly of your choice.
Bake at 180C for approx. 15 minutes or until golden.
Place on a wire rack to cool.
Will keep in an airtight container for up to 3 days.

---
Home Made Apple Pie
Thanks to Pauline Loh, Cuisine Asia.

6-8 small apples
2 tbsp Ludbrook House Orange & Lime Jelly
1 tbsp cornflour
6 dried dates, seeded and cut into small pieces
1 tsp lemon juice
Pinch of cinnamon mixed with some raw sugar
2 sheets of ready made puff pastry sheets

Peel apples, core and cut into small chunks.
Soak the apples in water to which you have added the lemon juice to prevent apples from turning brown.

Drain and toss apples in cornflour, then add Ludbrook House Orange and Lime Jelly and chopped dates. Set aside. The apples will release some water and these juices will moisten the filling.

Lightly oil a 25cm x 5cm deep pie dish. Place one sheet of pastry on top and ease it into the dish. Use a fork to prick a few holes at the bottom to prevent bubbles forming.
Spoon filling into the dish, right to the top.

Place the second sheet of puff pastry on top of the filling and trim the edges. Seal by pressing the tines of a fork all along the edges of the pastry. Prick holes in the top of the pastry to help release the steam.

Sprinkle cinnamon mixture evenly on top.
Bake at 200degC for 20 minutes or until pastry browns evenly. Serve hot in wedges with or without icecream.

---
Roasted Red Capsicum With Feta, Capers And Ludbrook House Preserved Lemons.

Serves 4.

4 fleshy red capsicum
700g feta cheese, crumbled
2-3 tablespoon olive oil
2 tablespoon capers
peel of 1 Ludbrook House preserved lemon, cut into small pieces.

Roast the capsicum under hot grill, turning frequently, until they soften and their skins blacken. Place capsicum in a plastic bag, seal and leave stand for 15 minutes. Peel the peppers, remove the stalks and seeds, then slice the flesh and arrange on a plate.
Add the crumbled feta and pour over the olive oil. Scatter the capers and Ludbrook House Ludbrook House preserved lemon over the top. Taste and season with salt if necessary.
Serve with chunks of fresh bread to mop up the delicious juices.
---
Cassola De Tros
(Casserole from Our Place)
This recipe was sent to me from a happy cook who copied the basic recipe from Cuisine magazine and found that adding Ludbrook House Spicy Plum Sauce made a good recipe totally delicious.

4 tablespoons olive oil
4 rashers bacon
400g pork sausages, sliced into 3cm pieces.
350g black pudding sliced 3cm
500g skinned pork shoulder cut into 3cm pieces
2 onions finely chopped
4 cloves garlic finely chopped.
5 large portobello mushrooms sliced
2 tablespoons brandy
200ml dry white wine
2 large tablespoons Ludbrook House Spicy Plum Sauce
5 med. potatoes peeled and cut into bite sized chunks
500ml beef stock
1 cup water
2 handfuls washed spinach leaves.
Salt and freshly ground black pepper.

Heat the oil over a high heat and brown the bacon, sausage, black pudding and pork. Remove from the pan and reserve.
Add onion, garlic and mushrooms to the pan and fry gently until onion is soft.
Return the meat to the pan and mix carefully.
Add brandy, set alight and let burn until flames die down.
Add potatoes, stock and water and bring to the boil.
Simmer for 35 minutes until potatoes are tender and mixture has reduced and thickened.
Add 2 large tablespoons of Ludbrook House Spicy Plum Sauce and stir carefully.
Stir in the spinach and cook until wilted.
Taste and add salt and pepper to season.





---

Ludbrook House Fine Foods
Gourmet Preserves, Jellies, Jams, Condiments, Vinegar and Cakes.

7491 State Highway One, Ohaeawai, Bay of Islands, NZ 0472

Telephone 00649 4059 846 - E-mail info@ludbrook.co.nz