Preserves: Figs, Quince
Paste: Fig, Quince
Fruit Syrups: Orange, Fig, Lime, Grape, Loquat, Lime & Chilli.
Gourmet Preserves - Buy Now
Our gourmet preserves are homemade from traditional recipes
Dessert Figs
Our delicious figs in syrup were the 2009 Cuisine Artisan Awards winner. We harvest fat brown turkey figs from our Ludbrook House orchard. Whole figs are slow poached with fresh ginger and lemon slices in a sugar and vinegar syrup to deliver luscious and rich fig preserve.

Buy Ludbrook House Dessert Figs online here.
Spicy Figs
These spicy figs in syrup are made by handpicking ripe figs and combining them in a syrup of sugar, ginger, fennel and cloves to give a delicious spicy touch to your next meat dish.

Buy Ludbrook House Spicy Figs online. here.
Semi-dried Figs (vacuum packed)
Our handpicked poached figs are gently simmered in a flavoured light syrup then drained and dehydrated to give you the perfect semi-dried figs.

Buy semi-dried figs online here.
Fig Paste
Ludbrook House Fig Paste is dense and moist with a hint of lemon and ginger. Figs are picked from the Ludbrook House orchard at the height of summer. Sugar is added to the prepared figs and a slow reduction process takes place. Ludbrook House Fig Paste is delicious with all cheese.

Buy Ludbrook House Fig Paste online here.
Poached Quinces
Individually selected quince are sliced and slow poached in sugar syrup with cinnamon and bay leaves. Serve Ludbrook House Poached Quince with cheese, pork and ham, duck and turkey or as a very special dessert.

Buy Ludbrook House Poached Quince online here.
Quince Paste
Handpicked quinces are pureed and very slowly cooked with sugar and lemon juice to produce this traditional quince paste. Ludbrook House Quince Paste is perfect with cheese.
Add a spoonful to meat jus for extra depth of flavor.

Buy quince paste here
Best of all Chris makes excellent quince paste. Stiff and sliceable, sweet but not sickly, the paste is unmistakably quince with the characteristic perfumed seediness'



Margaret Brooker - New Zealand Food Lovers Guide
Fruit Syrups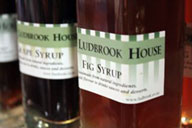 Ludbrook House gourmet syrups are a pantry necessity. Their intense natural flavor adds depth to sauces, salads, desserts, meat and fish dishes and drinks.
Orange Syrup
A deeply concentrated orange flavour with a hint of cinnamon makes Ludbrook House Orange Syrup a delicious addition to crepes, pancakes and waffles! Perfect enhancer for duck recipes. Buy Ludbrook House Orange Syrup online here.
Fig Syrup
For the lover of figs! Ludbrook House Fig Syrup, rich and addictive, is made by cooking figs in syrup laced with almond essence, bay leaves, fennel seeds and lemon peel. The gourmet fig syrup is then reduced and bottled. Heaven in a bottle! Buy Ludbrook House fig syrup online here.
Grape Syrup
Handpicked grapes from Northland wineries give Ludbrook House Grape Syrup a rich, true grape flavour. Pour over ice and add soda for a refreshing and delicious non-alcoholic drink.
Buy Ludbrook House Grape Syrup online here.
Lime Syrup
Experience a taste sensation with Ludbrook House Lime Syrup. Flavours of cinnamon and cardamom with intense lime make this a dessert syrup with a difference. Also great when poured over ice and soda for a refreshing and delicious non-alcoholic drink. Buy Lubrook House Lime Syrup online here.
Loquat Syrup with Star Anise
Ludbrook House Loquat Syrup - handpicked loquats are combined with star anise to produce a wonderful dessert syrup. Buy Ludbrook House Loquat Syrup with Star Anise online here.
Lime & Chilli Syrup
A friend suggested that we add chilli to Lime Syrup and we did! - and it worked! Ludbrook House Lime & Chilli Syrup adds a zip to fish, shellfish and chicken dishes. Sophisticated and relevant.
Buy Ludbrook House Lime & Chilli Syrup online here.
---

Ludbrook House Fine Foods
Gourmet Preserves, Jellies, Jams and Condiments.

7491 State Highway One, Ohaeawai, Bay of Islands, NZ 0472

Telephone 00649 4059 846 - E-mail info@ludbrook.co.nz